Hardware Creation, Packaging Design, Website Design
Vape was becoming one of the largest sectors of the cannabis market, and the simple pen designs were not evolving. HUM was started as an exploration into what users want.
We started with user research. After finding that the market consisted of primarily users that were 'older' (a broad definition of persons over 40 by ADEA US government terminology). We spoke with and observed new and existing cannabis vape consumers in this demographic. Our biggest revolution was that there was an utter lack of feedback. Our research showed vaporizer users had a difficult time identifying whether the device was on and if they were even physically feeling if they were consuming vapor. A broad.
Through market research we found that most dispensaries sold 510 cartridges; we knew that shifting away from 510 may be user-friendly, but less feasible for cannabis manufacturers. So we set out on redefining the vaping experience through the creation of a revolutionary 510 battery.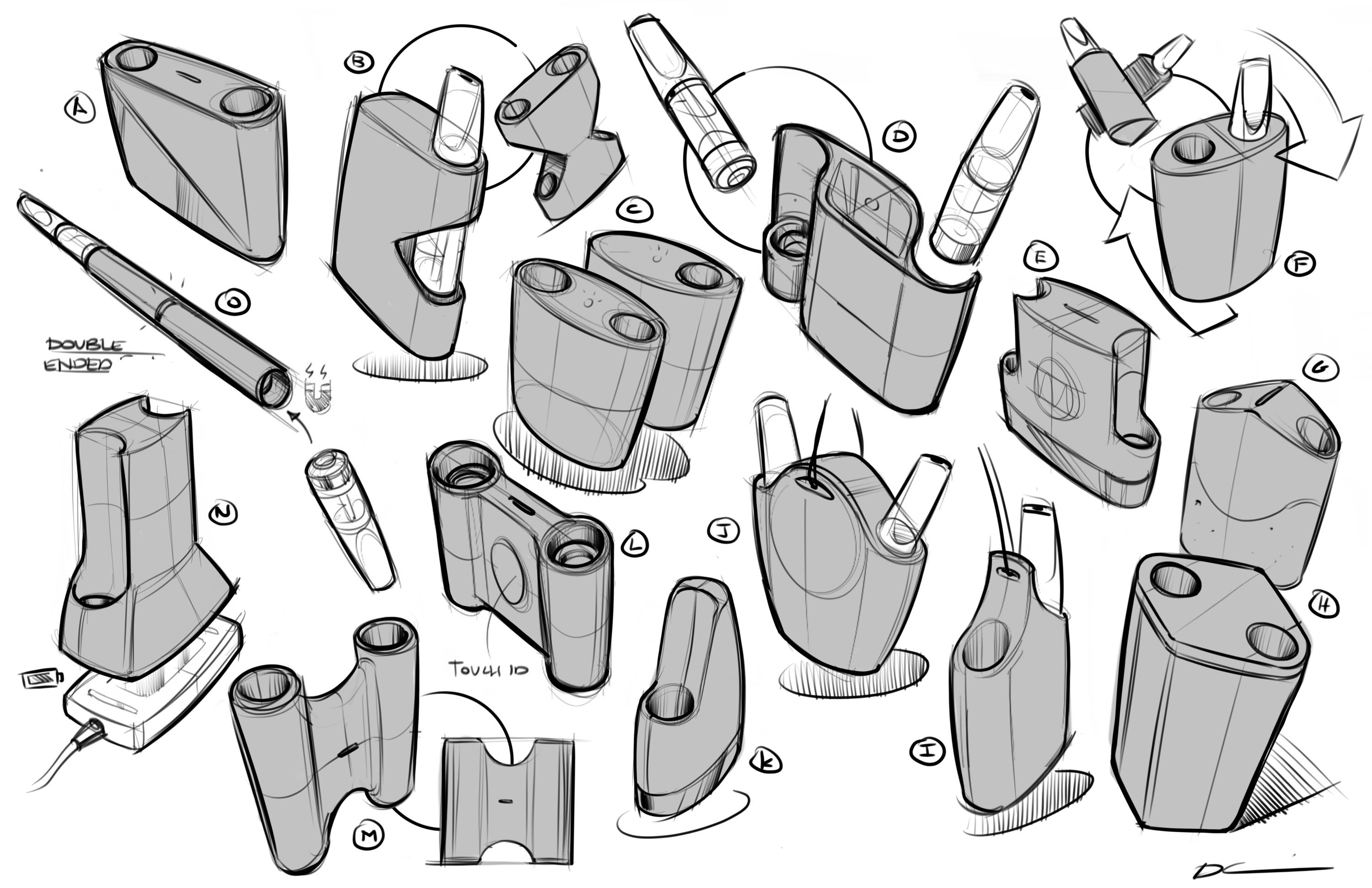 We found that the average* consumer uses more than one cartridge during the course of one day. Many of the users would use multiple profiles, flavors, or lower THC cartridges during the day and a higher THC, or blend cartridge later on. The research revealed consumers switching between at least two cartridges. 510 cartridges are threaded, and the act of screwing the cartridge for each use created a large amount of wrist strain for users. So we wanted the HUM to house 2 cartridges at once to combat this stress point.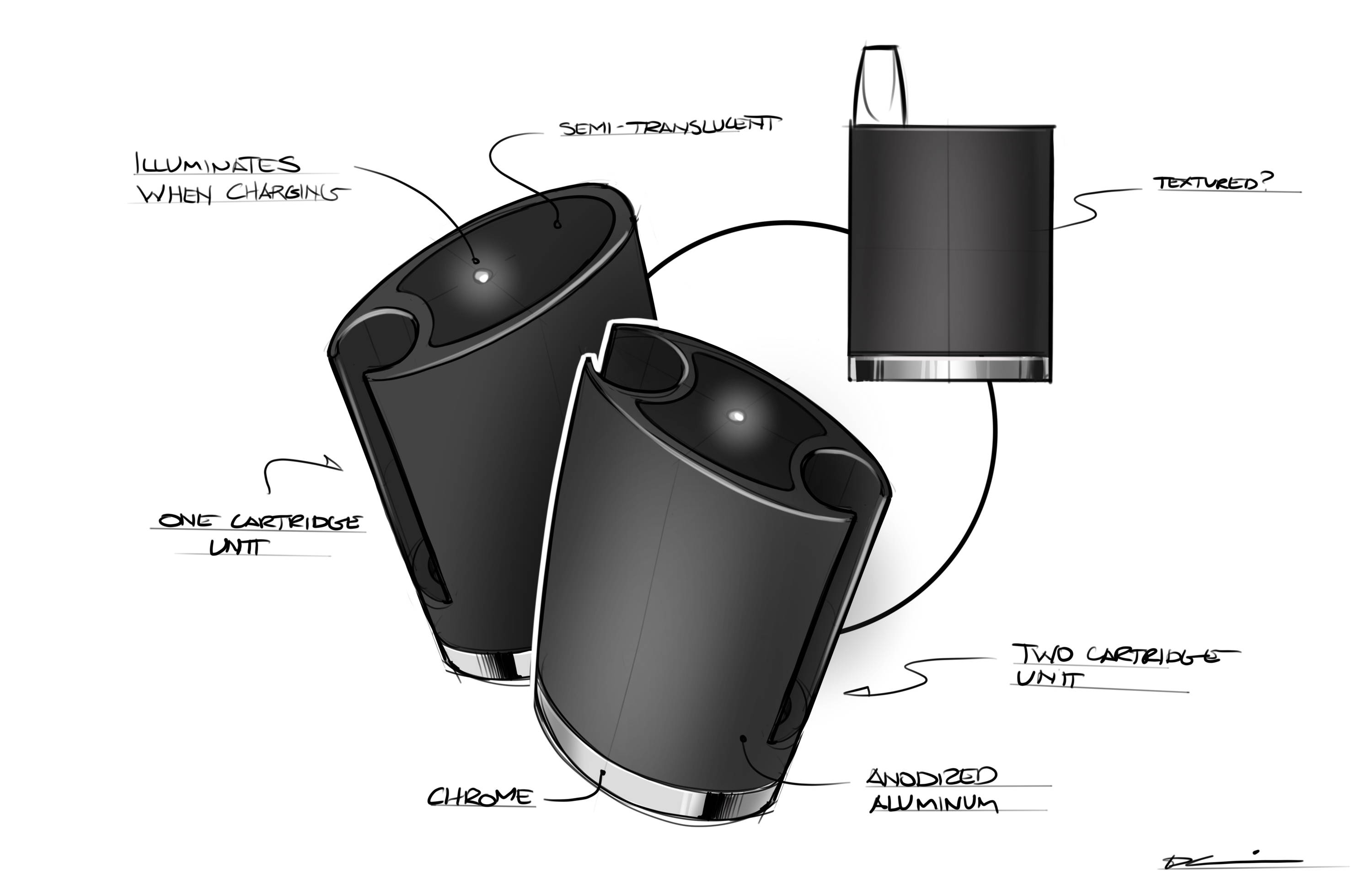 We landed on a direction that requires less movement. Existing vaporizers had lights on the base to indicate activity. This made it hard for users to view, and at the same time, it alerted everyone around the user what they were doing. We placed a small light on top of the battery, pointed toward the eye of the user so that only the user can view the status. With aesthetics in mind for the target demographic, we landed on a more subtle direction. When the battery rests on a table we do not want it to scream "cannabis" like the standard paraphernalia.
Make the device vibrate when in use so that the user could physically feel how much they were consuming.

After revisiting studies of human ergonomics we began to print as many variations are possible to test with a variety of users to define what feels best in hand.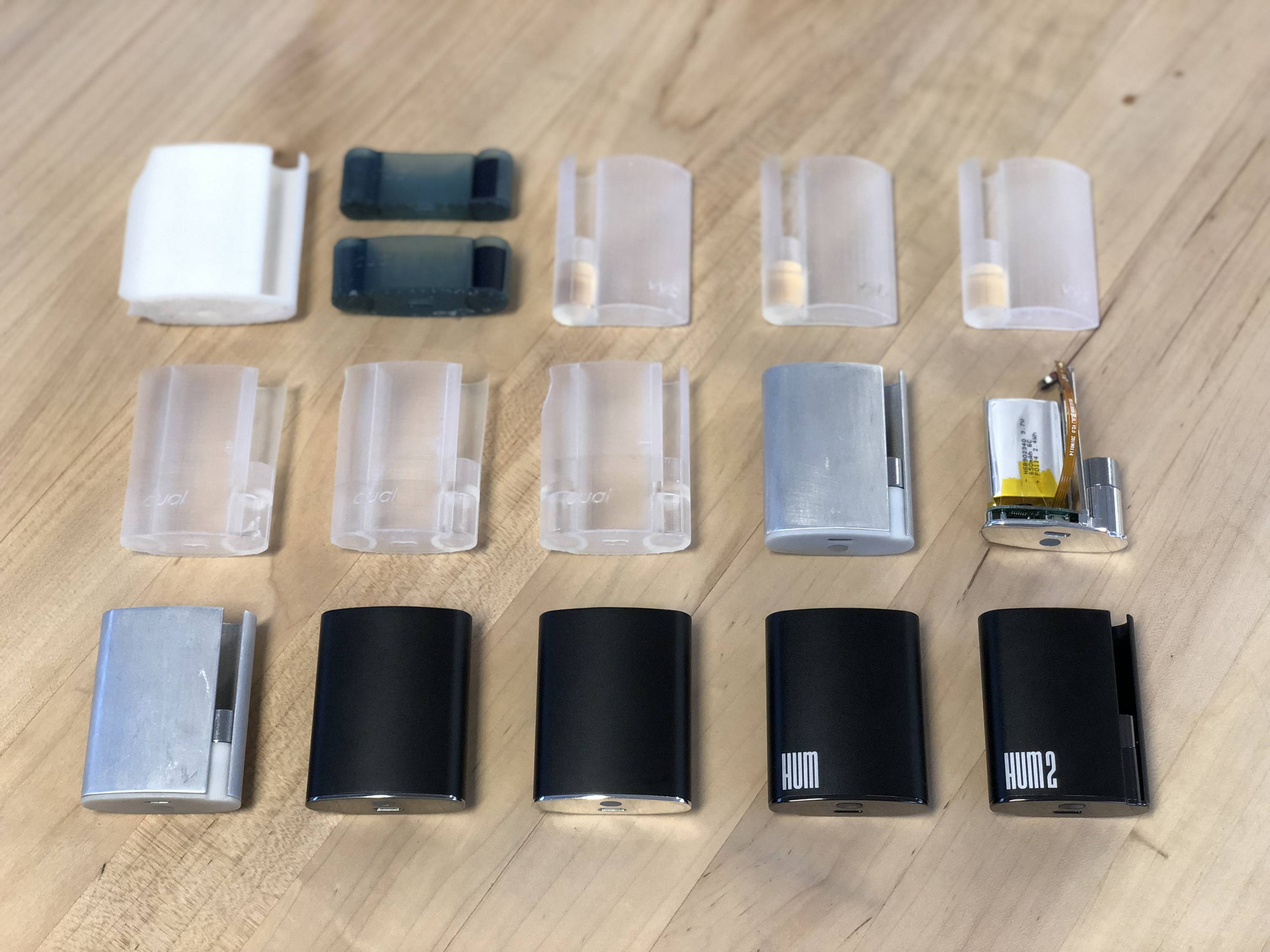 As we moved forward with the design we selected materials and manufacturing practices that allowed us to build a high quality device while keeping the price down.
Created bold packaging with a smooth matte finish paired with gloss detailing.
Designed an engaging website with elegant organization for HUM's multiple layers of content. The website's dark, minimalistic layout is balanced with big, bright & bold typography, colors, & imagery that allow the product to pop.
Designed to pay tribute to the 90's design aesthetic. Paring experimental, distorted typography with HUM's bold, bright colors we were able to achieve an exciting eye-catching collection for HUM.
HUM x Last Prisoner Project
Through HUM's partnership with Last Prisoner Project, we hope to bring awareness to their cause and contribute towards the reparation of those who have been disproportionately affected by the criminalization of marijuana. Last Prisoner Project is a nonprofit organization who works to redress the past and continuing harms of unjust laws and policies caused by the criminalization of cannabis.
"420" is an overused phrase in the cannabis community, but it always will be of the culture, so why not embrace it! For 4/20 we designed a playful graphic to celebrate our community's favorite holiday.
HUM has the utmost respect for artists & designers. We wanted to give back to the creative community by hosting a competition for artists to design a graphic for HUM & HUM2.